One Ring and Frodo's Chain
Title: Fellowship of the Ring, The Series: Lord of the Rings Class: Jewelry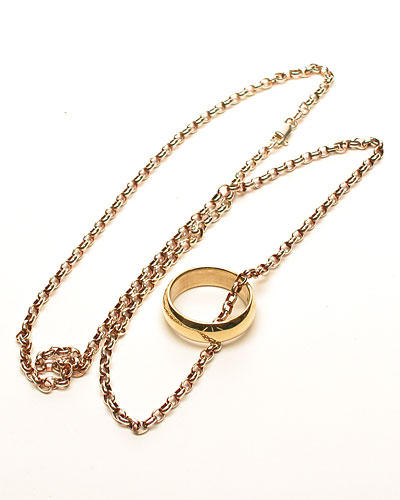 Faithful reproduction by Jens Hansen Studios ("JHS"), the jewelers in New Zealand who created the One Ring and other jewelry for the motion picture production. I have the distinction of being the first person to acquire this replica from JHS, which followed my correspondence with them about their involvement in the production. In addition to kindly indulging my curiosity, JHS offered to sell me their stock ring that was the basis of one of the versions used in the production. Soon thereafter, JHS began selling the One Ring replica, along with the chain on which Frodo carries the ring throughout the movies, on their website, with a certificate of authenticity and custom display box.

But mine, with its handwritten note and distinction of being the first to be sold, carries much sentimental value. JHS combines world-class artistry with uncommon reliability and integrity, and they are a pleasure to deal with. My "precious" is displayed in a music box—the Chelsea—available from Bombay Company.


ADDITIONAL IMAGES


AS SEEN IN: FELLOWSHIP OF THE RING, THE
* Click to enlarge