Displaying the Collection v.1.0 (Winter 2004)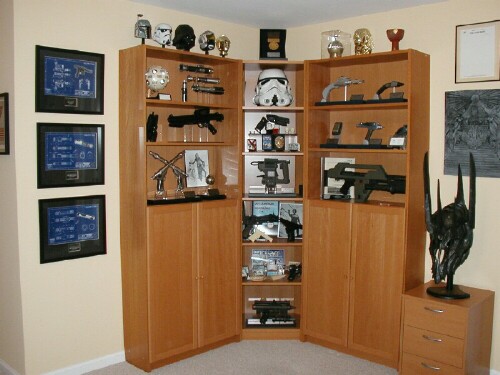 In late autumn 2004, I moved into a home twice the size of my previous abode to accommodate the arrival of my third child. As a fringe benefit, I gained a substantially larger home office/display area than what I had previously.

To facilitate home improvements, I liquidated a fair number of pieces from my collection, including most of my Master Replicas artist proofs. Although it stung a bit to part with such rare pieces as my Han Solo Blaster prototype and my SD Studios Golden Gun, I took some comfort in knowing that prop collecting is more than just an enjoyable hobby -- it's also an effective way to finance major renovations.

My new display environment is a spacious basement office with its own full bathroom with shower, which is adjacent to a nearly 200 square foot unfinished storage room that will allow me to accommodate my collection as it slowly regrows.

I decided to continue using the IKEA Billy storage system. This modular system expands to fill wall space, and the light beech finish provides an aesthetically pleasing showcase that does not overpower my props.

Although tweaking the display environment is a never-ending effort, I'm pleased by the way things have turned out so far. I always enjoy comparing display techniques and sharing resources, and I welcome your feedback. Thanks for looking.


* Click to enlarge